How to Apply
The Residency Determination Service (RDS) is the centralized system in North Carolina for determining residency for students.
---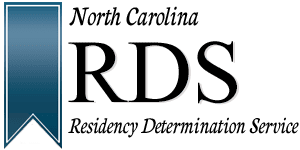 STEP 1:
If you wish to request a residency classification, submit an application using the Residency Determination Service.
Because this is a centralized system, you only have to complete the RDS application one time in the case where you may be seeking separate residency determinations at multiple colleges and universities in NC.
To learn more about residency and to apply, go to www.NCresidency.org
---
STEP 2:
After you have received your Residency Certification Number (RCN), you must provide UNC Charlotte with your RCN.
If you are new, incoming student, provide your RCN In your admission application portal.
If you are a current student, submit your RCN by following these steps:

Log in to your My UNC Charlotte account at my.charlotte.edu.
Click the Banner Self Service icon.
Click the Student Services / Student Account tab.
Click the Residency Determination Service link.
Enter your Residency Certification Number.
Click the submit button to process the request. Once submitted, you will receive instant feedback on the status of your request. You may return to that screen at any time to review the status of your request.
---
DIVERSITY STATEMENT: At UNC Charlotte, we are committed to advancing diversity and recognize our responsibility to cultivate a welcoming environment where the student body, faculty and staff can work and thrive together. We value inclusion as a fundamental strength and respect the dignity and rights of all individuals.
---